By Kate Stringer
Reposted from The 74 Million
Social-emotional learning programs have positive long-term effects, helping students well into their futures in areas like college completion and sexual and mental health. Students with SEL training scored 13 points higher academically than their peers 3.5 years later, had 6 percent better high school graduation rates, and could even reap lifelong monetary benefits for their healthy adult lifestyle.
That's according to new research from the Collaborative for Academic, Social, and Emotional Learning (CASEL), the University of Illinois at Chicago, Loyola University, and the University of British Columbia. 
The study reviewed 82 social-emotional learning programs used by 97,406 K-12 students. Researchers checked in with the students anywhere from six months to 18 years after they completed SEL training.
After studying outcomes such as attitudes toward the self, social behavior, and academic performance, researchers found that the skills students had learned stayed with them, even protecting against future problems like emotional distress and drug use. 
"This is marking a shift from SEL as a program to SEL as critical to education."
The programs that were studied varied: Many were classroom-based and taught SEL during structured group lessons 30 to 45 minutes long. Others developed SEL within the curriculum, involved parent support, or required a whole-school approach. But they all had to teach at least one of CASEL's five SEL components: self-management, relationship skills, responsible decision-making, self-awareness, and social awareness. 
SEL positively affected students across socioeconomic backgrounds and even globally, as a little less than half the research looked at programs outside the United States. 
"This is one of the longest and more complete follow-ups that's ever been done on SEL programs," said Joseph Durlak, co-author of the study and psychology professor emeritus at Loyola University Chicago. "We're including a lot of different outcomes that a lot of people didn't include." 
Research shows a 6 percent improvement in high school graduation rates for SEL students and an 11 percent improvement in college attendance and degree attainment. Students are also less likely to be high school dropouts, have an STD diagnosis, be arrested, or have a clinical mental health disorder. Researchers also showed monetary benefits for students who have achieved the positive impacts or avoided the negative ones: A high school diploma is worth a lifetime benefit of $367,687, and avoiding an arrest is worth $175,702 (these are 2015 numbers, adjusted for U.S. inflation).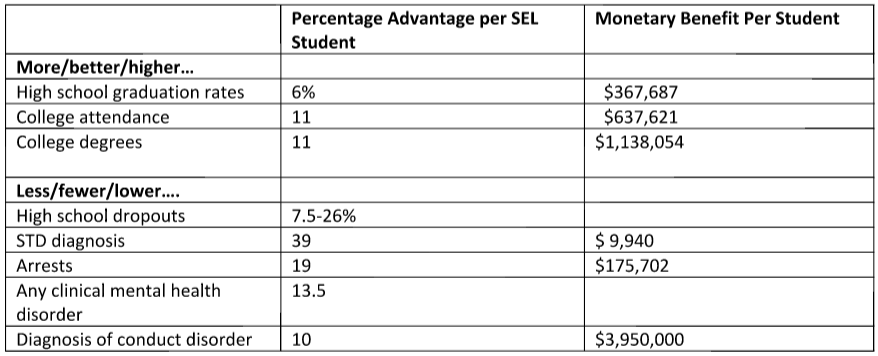 Long-term benefits of SEL programs are not surprising, the researchers said, as other studies have pointed out the lasting impacts of these programs. But they hope their large compilation of research can reinforce for policymakers that SEL is an essential component of education.
"We're not just reducing problem behaviors or improving attitudes; we're shaping a healthier, more positive, more fulfilling kind of life course," said Tim Shriver, CASEL chair and co-chair of the Aspen Institute's National Commission on Academic, Social, and Emotional Development. "This is marking a shift from SEL as a program to SEL as critical to education."
This research doesn't show which programs are the most effective. SEL interventions will vary in success depending on how well they fit a district's size and demographics, Durlak said.
"We don't know exactly why this works, we don't know exactly which skill is most important, and we can't tell right now which student benefits in which way," Durlak said. "These are all questions for the future."
However, CASEL has been working to make finding an appropriate, evidence-based SEL program easier for districts through its new District Resource Center, a compilation of several years of studying the implementation of various SEL interventions in schools.